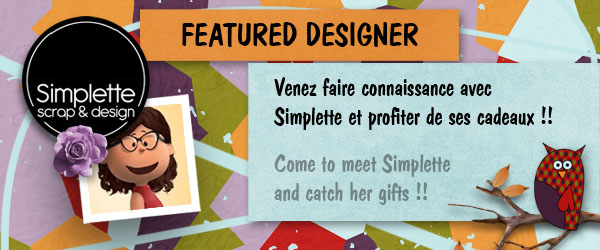 Dis nous en un peu plus sur toi ? ton prénom, ta vie, tes passions ?
Je m'appelle Nathalie, j'ai 42 ans, j'habite dans le sud de la France. Je suis une passionnée, dans tout ce que je fais, je bricole beaucoup, je suis très créative, une « bidouilleuse ». J'ai créé ma petite entreprise de graphisme il y a quelques années et je fais l'école à la maison à mes enfants. Mes journées sont donc bien remplies !!
Tell us a little more about you … your first name, your life, your passions ? your hobbies ???
My name is Nathalie, I'm 42 and live in south of France. I am passionated in everything I do, I tinker much, I am very creative. I created my small graphic design business a few years ago and my children are homeschooling. My days are so busy !!
Depuis combien de temps pratiques-tu cet art ? sur quel logiciel ?
Je fais du digiscrap depuis 2008 sur Photoshop principalement. Mais j'utilise aussi Illustrator et Inkscape ou Artrage.
For how long do you do this art ? With which program ?
I made digiscrap since 2008. I use Photoshop, Illustrator, Inkscrap or Artrage.
Qu'est ce qui t'a amené au digiscrap ?
J'ai toujours fait des montages photos, dès que j'ai su manier une souris, et quand j'ai appris que cette discipline avait un nom, j'étais aux anges  !!! Je me suis jetée à corps perdu dans le digiscrap : j'ai intégré une boutique très rapidement, et après je ne me suis jamais arrêtée, j'adore le scrap, cela réunit toutes mes passions !!
What brought you to digital digiscrapbooking ?
I always made photo montages, as soon as I knew to handle a mouse, and when I learned that this game had a name, I was in heaven !!! I threw myself headlong into the Digital Scrapbooking : I entered a shop very quickly, and then I never stopped me, I love scrapbooking, it meets all my passions !!
Donnes nous 5 termes pour définir ton style :
créatif, dejanté, à contre courant.
Je crée la plupart de mes éléments et papiers, et le tout varie au gré de mes envies
Give us 5 words to define your style.
creative, crazy, against the current.
I create most of my elements and papers, and all varies according to my desires
Si tu devais choisir un des tes produits et un seul, lequel serait-il ?
Pourquoi ce choix ?
C'est super dur, j'aime tous mes kits… Ceux que je n'aime pas ne voient jamais le jour … Mais puisqu'il faut en choisir un le voici « Look about the Happiness »
Je le choisis pour ces couleurs douces, ses papiers contrastés et pour son message, parce que c'est ça l'important dans mes kits, c'est le message que j'essaie de faire passer par les images…
If you have to choose one and only one of your products, which would it be ? Why this choice ?
It's super hard, I love all my kits … Those I dislike never see the day …
But I have to choose, so here is « Look about the Happiness"
I selected it for these soft colors, contrasting papers and its message, because that is the most important thing in my kits : the message I try to convey through images !!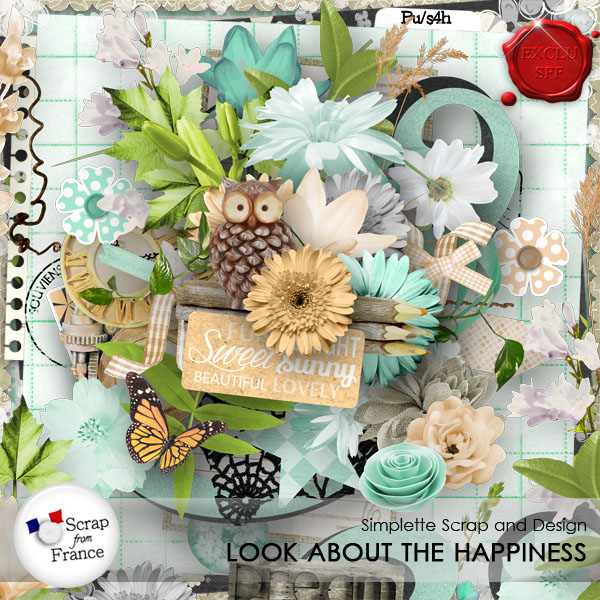 Pourrais-tu nous présenter 4 de tes pages CT préférées ?
J'aime tout ce que fait ma CT !!
J'aime ces filles pour leur personnalité, leur gentillesse, leur disponibilité, elles sont toujours là, certaines depuis des années !!! Aujourd'hui je mets quatre pages à l'honneur mais il faut qu'elles sachent que dans mon cœur, elles ont toutes la première place !!
Can you present us 4 of your favorite CT pages ?
I like everything that my CT make !!
I love these girls for their personality, their kindness, their availability, they are still there, some for years !!! Today I put four pages in the spotlight but they need to know that in my heart, they all have the first place !!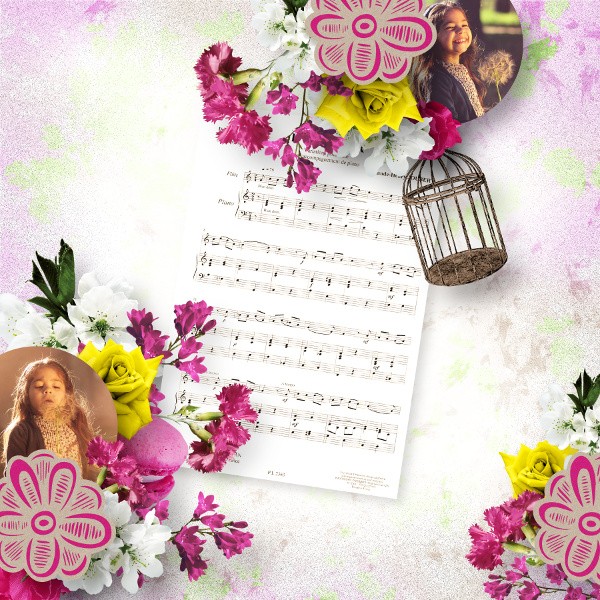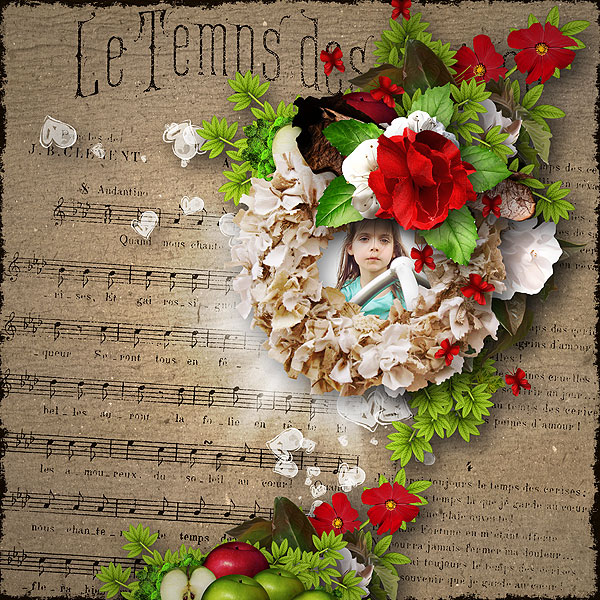 Scrapbxl / Liljana                                           Xuxper / Douceurs du Verger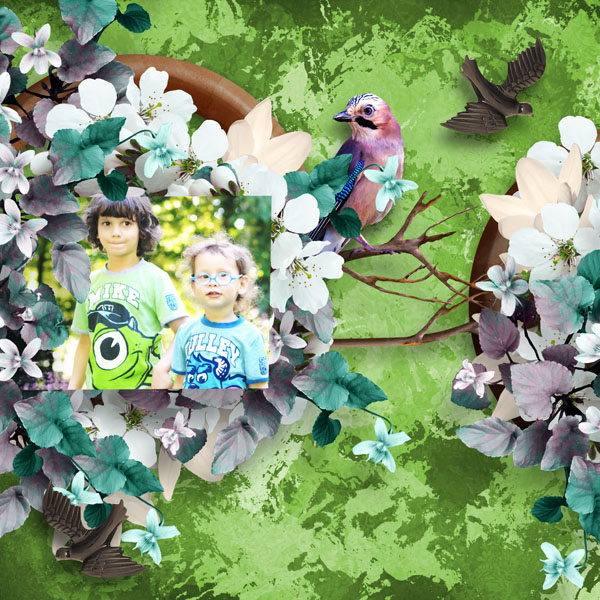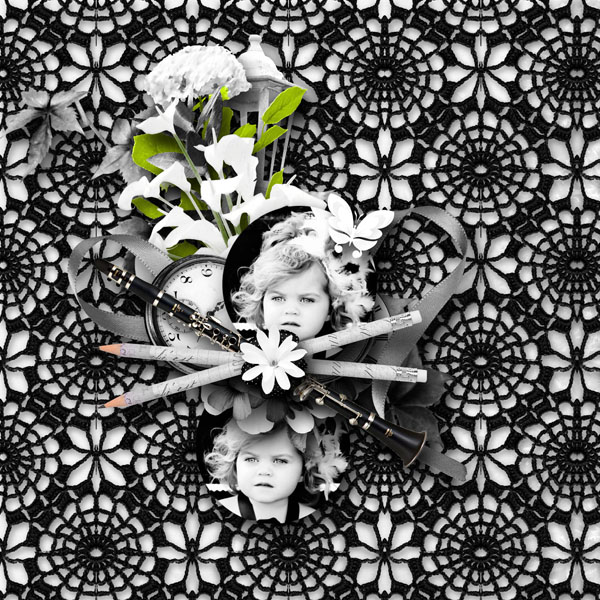 Sarayane / Message of Love                             Maman de Léna / A marvellous story of time
Et à part le scrap, fais-nous partager ton morceau de musique préféré du moment
« Il est temps à nouveau » de Jean Louis Aubert parce que cela correspond bien à mon état du moment où il faut se (re)motiver à prendre des décisions importantes qui vont changer tout le reste de ma vie.
And, apart from scrap, can you tell us your favorite song at this day ?
« Il est temps à nouveau » by Jean Louis Aubert because it corresponds to my present mind when it is necessary to (re) motivate to make important decisions that will change the rest of my life.
https://www.youtube.com/watch?v=zRCFbtKPF_g
Pour finir, quel est ton proverbe préféré ?
« Si tu ne peux pas faire uniquement ce que tu aimes, aimes ce que tu fais »
And, finally, what is your favorite quote ?
« If you can not do only what you love, love what you do»
Quel est ton application préféré?
En ce moment, j'en ai plusieurs…
DOTS pour les jeux
FREEPRINTS pour imprimer des photos gratuitement (oui !! oui !! on ne paie que les frais de port, on a droit à 45 photos gratuites par mois)
What is your favorite app ?
Right now, I have several …
DOTS for games
FREEPRINTS to print photos free of charge (Yes !! Yes !! you only pay the shipping costs, you are entitled to 45 free pictures per month)
Quelle est la chose la plus extraordinaire que tu aies jamais faite?
J'ai décidé de faire l'école à la maison à mes enfants !! (et oui, toujours à contre courant, je vous l'ai dit!!). Cette année le plus grand fait sa troisième et le second son CM2. Ils ne sont jamais allés à l'école, ils font beaucoup d'activités sportives, culturelles, artistiques, et rencontrent ainsi plein d'autres enfants, le but étant surtout de ne pas les isoler mais au contraire de les laisser s'exprimer pleinement !!
What's the most daring thing you've ever done?
I decided to do " homeschooling " with my kids !! (Yes, always against the current, I have told you !!). They are 14 and 11. They never went to school, they do a lot of sports, cultural and artistic activities, and so meet many other children, the aim being especially not to isolate them but to let them express themselves fully !!
De quel mot abuses-tu?
Du mot « euh…. » qui me permet de réfléchir encore un peu à ce que je vais dire (hihi je suis une perfectionniste!!)
What word do you overuse?
I overuse the word « euh… » which allows me to still think a bit about what I say (I'm a perfectionist !!
)
Et maintenant les cadeaux !!
1. mon kit ECHINACEE à 1 euro jusqu'au 15 avril
2. un premier freebie disponible du 1er au 07 avril
3. un second freebie du 08 au 15 avril
4. une promo sur toute ma boutique pendant tout le mois d'avril !!
and now the gifts !!
1. my kit ECHINACEE for 1€ until April the 15th
2. a first freebie from April the first to the 7th
3. another one from the 8th to the 15th
4. a promotion on my store during all the month !!
---
---
Joyeuse Pâques – Happy Easter
Toute l'équipe de Scrap From France est ravie de vous souhaitez une joyeuse fête de Pâques, que le partage en famille soit au RDV. Pour cette occasion, la boutique est à -50% jusqu'au 4 avril. Venez découvrir les produits de toutes les designeuses à prix réduits.
All the team of Scrap From France wanted to wish you a happy Easter, share some great moments with your familly too. To celebrate  it, the store is on sales at 50% off until 4th april. enjoye all the products!!
50 %
Les nouveaux challenges sont en place..rejoignez nos designeuses et montrez-nous vos pages pour gagner de magnifiques cadeaux de la part de, Didou,  Leaugoscrap, Happy Scrap Art, Kittyscrap, Jessica Art et Vanessa !!! N'oubliez pas de venir voter pour les gagnantes des challenges précédant
New challenges are on…join us and show us your beauties, you may win some amazing products from Didou,  Leaugoscrap, Happy Scrap Art, Kittyscrap, Jessica Art et Vanessa !!! Don't miss to come and vote for the previous challenges.
Don't miss to come and vote for the previous challenges.
En manque d'inspiration…??? Retrouvez de superbes pages dans la galerie Scrap From france : cette page m'a beaucoup plu par sa simplicité et la photo choisie, bravo!!!
Not get inspired??Check our gallery to fell your mojo come back : this page is adorable with a great simplicity and a fabulous pic!!!
Page de Vanessa
JARDIN DE PAQUES by Love Crea Design

Don't forget that we have an excellent reward point system !!!!
All the designers of Scrap From France thank you for your loyalty….great week everyone.
N'oubliez pas que nous avons un système de points très avantageux pour nos clientes !!!!
Toute l'équipe des designeuses de Scrap From France vous remercie pour votre fidélité….bonne semaine à vous.