BALLADE AUTOMNALE
Voici le nouveau collab »Ballade Automnale » des designeuses de Scrap From France…pour l'arrivée de l'automne. et il semble bien qu'il soit là, ce week-end!!! Réchauffez vos pages avec ces tons !!!!
Here is the new collab from Scrap From France 's designers team. with some really warm colors…make some cozy pages!!!
Vous pouvez ajouter ce collab directement dans votre panier et gratuitement à partir de 10.0 euros d'achat en boutique !!!Découvrez aussi les dérivés assortis!!
You may add this amazing collab directly from your Cart and Free with purhcase with 10.00 euros spent on store!!!!
---
---
AADesigns: 30 % until the end of month
BLT DeZignZ: 50 % until the end of month
Chanel : 40 % until the end of month
Mariscrap : 40 % until the end of month
Mellye : 40 % until the end of month
Toutes les nouveautés de la semaine dans la NL en détail !!!! Si vous préférez la recevoir directement par mail, inscrivez-vous par le bouton « Subscribe » en haut à gauche.
Hi everyone, you can read Scrap From France NL ….fantastic new products on store and this week 2 freebies are waiting for you !!! If you prefer, you can also « subscribe » and receive it by email (left top button).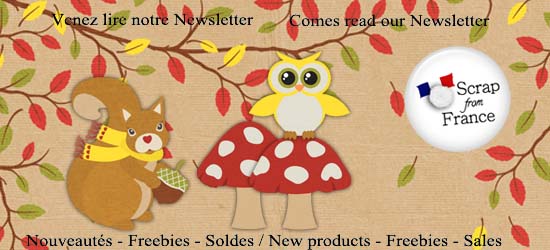 Made by – Réalisé avec le kit de Scrap de Yas « In The Forest » :
Bon scrap à tous et toutes. N'oubliez pas le petit commentaire qui fait toujours plaisir.
Great scrapping. Don't miss to post some comments…I love them!!