Bonjour à tous et toutes, vous pouvez consulter la NL de Scrap From France de cette semaine …cette semaine de superbes nouveautés…et attention demain surprise !!!! Si vous préférez la recevoir directement par mail, inscrivez-vous par le bouton « Subscribe » en haut à gauche.
Hi everyone, you can read Scrap From France NL ….fantastic new products on store!!! If you prefer, you can also « subscribe » and receive it by email (left top button).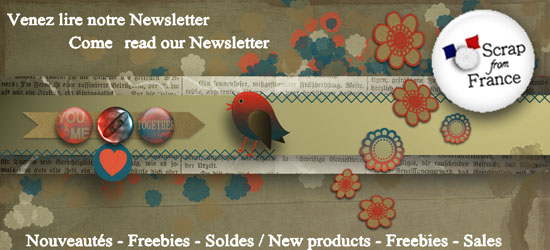 Made by – Réalisé avec le kit de Simplette « Every smile »:
Bon scrap à tous et toutes. N'oubliez pas le petit commentaire qui fait toujours plaisir.
Great scrapping. Don't miss to post some comments…I love them!!
Vote for me: